High School Soccer League (Winter 1) Soccer · Any Open
MonTueWedThuFriSatSun 7:00pm to 10:20pm
Team Fees

Regular

$825.00 per team + Transaction Fee

Payment Plans Available
Free Agent Fees

Regular

$75.00

+ Transaction Fee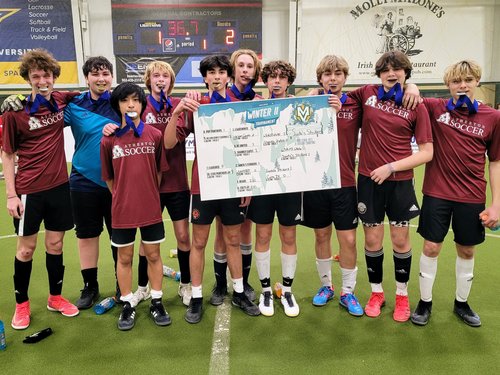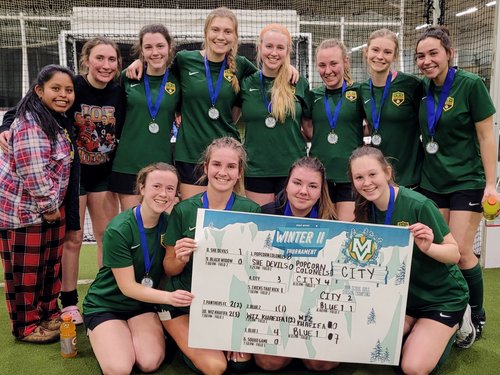 DIVISION INFO:

The session will last 7 weeks and consist of 6 full games and a mini-tournament on week 7 (December 16th-17th). Games will be held on Friday and Saturday late afternoon and nights. We will NOT have games over Thanksgiving break. A full game consists of two 20-minute halves. The mini-tournament is a knockout style tournament that every team in the league qualifies to play in.

THIS SEASON: All games will be live streamed so you can watch, clip and share your highlights!
Divisions:
Girls JV (8th Grade - Sophomore)
Girls Varsity
Boys JV (8th Grade - Sophomore)
Boys Varsity
We reserve the right to move teams to the appropriate division based on age, size and skill level after the first game in order to balance the season's final schedule. Players may play on multiple teams throughout the season, however may ONLY play on ONE single team in the end of season tournament if within the same division. An example is if a school has 18 JV players, they would register two separate teams to into the JV division. Teams would be separate throughout the season however they may pull a player or two from their other team to have an appropriate number of subs for a game. However, at the beginning of the tournament, players may NOT switch among their two teams. School's with multiple teams should not try to 'stack' one of their teams, unless they want to play in a higher division. Another example is if a team has a JV and a Varsity team and a Freshman is playing for both teams. In this case, the Freshman player may play in both the JV and the Varsity tournaments as the teams are competing in separate divisions. We reserve the right to disqualify any team, at any time throughout the season or tournament if they violate, try to 'game' the system, or act in bad faith with their rosters. When in doubt, just ask. We want all kids to get as much playing time as possible and to have a lot of fun playing.
HOW TO REGISTER:
Your 'Coach' or 'Team Parent' must first register the team, team name, jersey color and then print the Waiver and Roster below. Roster submissions are due at the first game.
WAIVERS and ROSTER:
For all players, please
have a parent or guardian sign the waiver for their child. Each player may bring their waiver individually OR you may submit all players on a single team
roster/waiver. The team's
roster and all w
aivers must be turned in before the first game.

PAYMENTS:
All payments will be done ONLINE via the Coach/Team Parent's registration. During team registration, the coach/team parent is given the option to pay the full amount OR set up an installment plan. The installment plan will automatically charge the team fee split up across 4 consecutive weeks. Players will need to pay their portion of the team fee to their 'Coach' or 'Team Parent'. We do not collect individual payments from players, just the full team fee as paid by the coach/team parent.

INDIVIDUAL REGISTATION:

Sign up as a 'Free Agent' for the opportunity to be connected with a team the fits your skill level OR placed on a house team. Registration for a free agent is $75.

LEAGUE RULES:

In addition to our Game Rules and Policies, please read the high school specific, League Rules below.

- The minimum number of players permitted on a team is 8 and the maximum is 16.
- The minimum age to participate in the High School Soccer League is 13 years of age and maximum age is 18 years old (*19 yrs old IF born before August 1st AND is still in high school). We reserve the right to ask for student identification from the current school year or government identification. If unable to provide identification upon request, a player will not be allowed to play. Absolutely NO college players.
- Coach/Team Parent - A team coach OR parent representative for each team must be present on the players sideline for every game.
- Team Gear - All team members MUST have matching colored t-shirts or jerseys and must be worn at all times. Shin-guards are mandatory and must be covered with socks. Flat-soled soccer or tennis shoes are required. No cleats, please. Additionally, all teams MUST bring an alternate color in case both teams are the same color. We will not lend out colored pinnies to use. The team listed 2nd on the schedule will have to change in the event of matching colors. If the team listed 2nd cannot provide a different color to wear, they will take a forfeit.
- Players will NOT be required to wear a mask while playing in the game, nor while in the facility. *MVSC reserves the right to change our protocols at any point in time based on future information or government mandates.
- A Red Card infraction results in the suspension of a minimum of 1 game. No refunds given. Additional game suspensions may be issued at referee and MVSC Management's discretion.
- Any player deemed to be under the influence of alcohol and/or drugs will not be allowed to play.
- Fighting will not be tolerated. You will be kicked out for the rest of the session. No refund given.
For any questions, please reach out to Mike Miescke, the league director at ski@mockingbirdsoccer.net